BLACK SWAMP CARBINE
THIS EVENT CLOSES THE 300m, Cowboy Town and 500yd
SUMMARY AND COURSE OF FIRE: Tactical shooting with modern rifles and pistols. No scoring. A variety of courses of fire such as the use of barricades, moving while firing, changing positions, weak-hand firing, magazine changes, etc. We share knowledge, skills, and drills. We run a hot range with slung rifles. A group of like-minded people gathered to share their knowledge of modern platforms of defense, and it evolved into an organized shoot to continue this and involve others. Check out the pictures below!
EQUIPMENT: Ear and eye protection, modern box magazine-fed carbine/rifle of intermediate caliber (AR-15, AK-47, etc.), rifle sling, modern pistol (9mm up to .45 caliber), at least three magazines per firearm, magazine pouches, approximately 300 rounds per firearm.
WHEN: First Sunday of each month, January through December. Set up 11:00 a.m., new shooters 11:30 a.m., start time 12:00 p.m. (ends about 4:00 p.m.). Through the winter months, we have a night shoot on the first Saturday of Nov/Dec/Jan/Feb/Mar from 5pm until dusk.
2023 SCHEDULE: Click here to see our calendar page for the most current event schedule
COST: $25 – $10 is returned to each participant that stays for brass cleanup.
CONTACT: Jeremy Decker at 419-934-6133 or jcd2250@yahoo.com
Director's note: Please come and join in the fun and do not let a lack of gear stop you from attending. Just bring the basics and you will be fine. You will quickly find out what works and what doesn't, what you like and what you don't.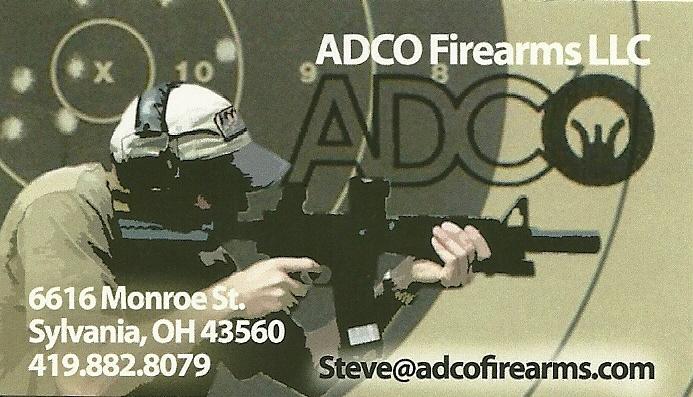 Owner Steve Thompson would be happy to help you find the right gun and supplies for combat shooting.